Archive for September, 2016
by Kathy Watts on Sep.02, 2016, under Forecasts
Heads Up!
The Writer's Astrological Almanac
By Kathy Watts
September 2016
(all times are PDT)
Like New Moons? Like Solar Eclipses? Happy September 1! Start the month with a fresh approach, and a fresh feeling. Autumn is not that far off. And remember, Mercury is retrograde.
Thu Sep 01 is the New Moon and Solar Eclipse at 9 Vir. Heads Up. It's pretty much opposed Neptune, too. Be safe and work on the small important stuff first. In the evening the Sun squares Saturn. Don't judge what you wrote today. You'll like it better tomorrow.
Fri Sep 02 the Sun makes an opposition to Neptune at 9:38 am. Let the dreamy fog dissolve and see things more clearly. At 10:18 am Mercury retrograde conjoins Jupiter in Virgo. Trust your first impression, write fast, and edit later. At 3:00 pm the Moon conjoins Mercury, and at 3:13 pm the Moon conjoins Jupiter and goes void of course. Write fast, write a lot and don't worry about how much of it may make the cut. At long last the Moon enters Libra at 5:55 pm. Now go have a pleasant evening.
Sat Sep 03 the Moon conjoins Venus in Libra. Hold your head up high and smile. You're writing. You don't even have to tell anybody about it. (continue reading…)
Comments Off

on Head's Up! September Forecast
:eclipse, Fall Forecast, Kathy Watts, Mercury retrograde, Venus
more...
by Dorothy Kovach on Sep.01, 2016, under Traditional Astrology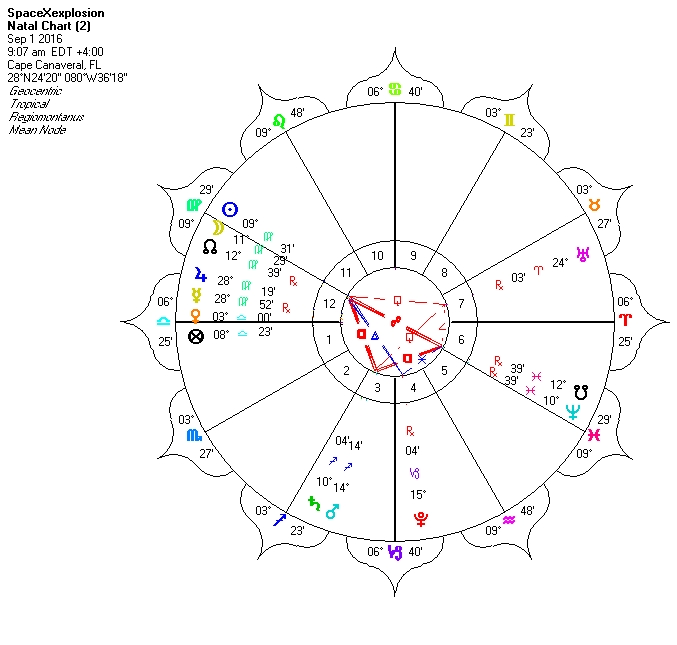 Above is the chart for the explosion of the Space X rocket that was to bring Facebook Satellite to space to provide internet in the Sahara Desert in Africa. Do you see anything special ?  This chart is up at Angelicus Merlin
http://tinyurl.com/SpaceX-go-BOOM
Comments Off

on Space X Explosion
:content, imgclasswp-image-3763aligncentersrchttp//www.worldastrology.net/wp-content/uploads/2016/09/Space-X-explosion.jpgaltSpaceXexplosionwidth606height577/plosion, Space X Exdata:text/mce-internal
more...