by Kathy Watts on Aug.02, 2010, under Forecasts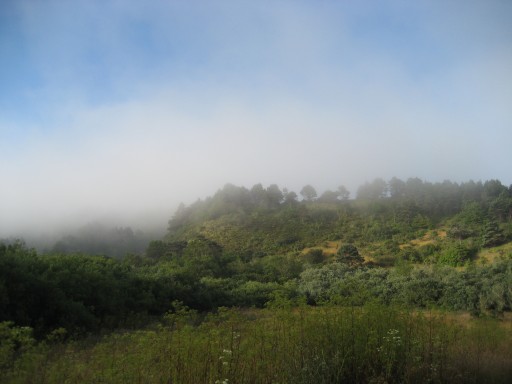 It's a month of retrogrades and long-lasting conjunctions.  Life may seem stuck in low gear, but the low gears are the strong ones. Venus and Saturn are within orb for conjunction from Aug 2 till Aug 13.  Heads up for any unwarranted feelings of self-sacrifice or self-pity.  Mars is deep in the mix, too.
Mars will be in a separating conjunction with Saturn until Aug 11 or so.  Be on guard against feeling so strong that you're willing to be a doormat.
Then we have Venus and Mars, ah!  This gives charm and beauty to the world, and reckless flirtation, jealousy, and temper.
Now that's a Heads Up configuration!
They begin an applying conjunction on Aug 6, reach exact conjunction on Aug 20 (the same day that Mercury goes stationary retrograde), do the exact conjunction again on Oct 1 (shortly before Venus goes stationary retrograde on Oct 8), and they don't pull away from one another until Oct 12. Then there's Jupiter and Uranus, still conjunct in the borderlands of early Aries and late Pisces.  It lasts till the end of the year, and then some.  This is the stuff of Big Business, big and generous authority, and big surprises.  Make friends with these conditions and Heads Up all month. Get all that?  Did it stick?  Me, neither.  That's why I need to look at the sky day by day, night by night.
Ready for August?
August 1 falls on a Sunday with the Moon in Aries.  Is that enough fire for you?  Take your place in the world, even if it's that BBQ you thought you wanted to skip.  Network, network, see and be seen.  Smile.  The Sun is in Leo.

Tue Aug 3 the Moon is in Taurus when Mars exactly opposes Jupiter.  If you see a risk worth taking, don't be too slow about it.  If it's questionable (as most risks are), hesitation may be the better part of virtue.  Heads Up.
Wed Aug 4 the Moon enters Gemini, where it stays till Friday afternoon.  We have a month of Wednesdays with the Moon in mutable signs.  Gemini, Virgo, and Sagittarius are friendly to writing and publishing.  Get some work done!

Fri Aug 6 the Moon is in Cancer when Venus changes signs and moves into her home sign of Libra.  (Yes, Venus rules Taurus, too.)  Practice some random act of civility and good manners, and watch civilization return to the world.
Sat Aug 7 the Moon is still in Cancer when Venus opposes Uranus.  It's the perfect day to indulge in being a tea (or coffee) snob.
Sun Aug 8 Venus exactly conjuncts Saturn.  Something (or someone) venerable and feminine might save an awkward situation.  About six hours later the Moon moves into Leo.  The Moon may be at its darkest, but you can still shine, with discretion.  It's also the day before the New Moon.  Heads Up.
Mon Aug 9 Venus exactly opposes Jupiter.  It's a risky time to be emotionally all over the map.  Heads Up.  About three hours later comes the New Moon at 17Leo.  This is a lot of regal energy.  Start something anchored in dignity.
Wed Aug 11 the Moon conjuncts Mercury in Virgo.  Pick something you care about and make it perfect.
Thu Aug 12 the Moon conjuncts Saturn in Libra.  Correct some old problem or flaw, or just apologize (even for nothing) and win back an alienated teammate.
Fri Aug 13 the Moon conjuncts Venus, then four hour later conjuncts Mars in Libra.  There is great beauty in restraint.  (All of this Venus-Mars stuff has got to be good for the writers of romance.)  That night Uranus retrogrades out of Aries and back into Pisces.  It's never going to be too late to reevaluate some ideas.  This is your basic Heads Up day.
Mon Aug 16 the Moon is in Scorpio when Jupiter exactly opposes Saturn.  Your failings are less severe and less of a hindrance than you think. Aim high, with courage and cheer.  Heads Up.
Wed Aug 18 the Moon is Sagittarius all day.  Resist major distractions, especially time sinks while trying to instruct others, and work on your own stuff.
Thu Aug 19 the Moon conjuncts Pluto in Capricorn.  Did I say 'work on your own stuff' yet?  Also, Mercury is grinding to a halt, preparing to go stationary retrograde tomorrow.  Make preparations of your own.  Be good to your car, your computer, and your cell phone.
Fri Aug 20 the Moon is in serious (though not grim) Capricorn when the Sun exactly opposes Neptune.  This is a tough day for fantasies.  Midday Venus exactly conjuncts Mars (I'm so glad this is happening on Venus's turf, at 14 Lib).  An hour later Mercury goes stationary retrograde in his home sign of Virgo. It's a serious Heads Up day, but with many friendly overtones for writers.  Be sharp, alert, but also patient and tolerant. Mercury retrograde in Virgo is made for editing and fact-checking.
Sat Aug 21 the Moon is still in Capricorn when Saturn exactly squares Pluto.  Some authority figures like being challenged.  Choose your revolution with care.  Heads Up.
Sun Aug 22 the Moon is in Aquarius when the Sun leaves its homesign of Leo and enters Virgo.  Can't you just feel the glitz fizzing away?  The universe is not contractingand getting more dull.  Rather, it's changing its focus.
Tue Aug 24 the Moon conjuncts Neptune in Aquarius.  Dream of deep beautiful things.  Late morning is the Full Moon at 01Pis.  Some secrets are truly universal.
Wed Aug 25 the Moon is in Pisces when the Sun exactly trines Pluto.  Sometimes transformation can improve character.  Remember dignity and integrity, and then go for it.  Write with passion.
Thu Aug 26 the Moon conjuncts Uranus in the fishtail end of Pisces.  Feelings can be so deep, you wonder if this is the first time they've surfaced.  Then, four hours later, the Moon enters Aries and conjuncts Jupiter.  A bright energetic outlook is a magnet for good luck.  Write with conviction and joy.
Tue Aug 31 the Moon enters Gemini in the late afternoon.  Leave yourself copious notes for tomorrow.  It will be a new month, a Wednesday, and the Moon will still be in Gemini
This is one heck of a writer's month.  Don't be shy about a single day of it.  It's a month full of ideas, contacts, inspiration, lucky hunches.  It's also a month rich in examples of the bad stuff, negative self-criticism, exaggerated humility, inappropriate self-degradation.  Keep the head and hands up, and the shoulders down.  Relax and settle into the blissful magic of making art with…words!  Imagine that!  Heads up!
:August Writers Almanac, Forecasts
No comments for this entry yet...