Tag: Deborah Houlding Workshop
by Dorothy Kovach on Sep.22, 2010, under Lectures & Workshops, Traditional Astrology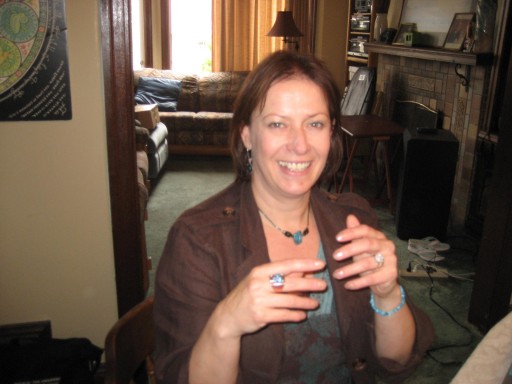 We are thrilled to announce that  the internationally renowned astrologer, and force behind the ultimate astrological website, http://skyscript.co.uk, Deborah Houlding will be returning to San Francisco, by popular demand, to give a not to be missed workshop on Saturday and Sunday October 23rd and 24th.
Saturday (23rd) 10:30-5:30 pm – Key Principles of Horary Astrology
Details from Dignities and Receptions The morning presentation clarifies the use of dignities and debilities in practical chart-work, and explains how, and in what circumstances, receptions become important. It then demonstrates how to judge the effect of aspects with this additional information taken into account (it looks, for example, at the difference between harmonious aspects involving debilitated planets, and difficult aspects involving dignified planets). This level of detail is useful in many situations, and allows the astrologer to judge whether a client should be encouraged to avoid an impending problem, or whether they should be encouraged to tackle it head-on, with the intention of surmounting it.

Afternoon: Relationship Charts This presentation explains (and clarifies) the traditional concepts that underlie the horary judgement of intimate relationships: from the principles that determine significators and co-significators, to differentiating between 5th and 7th house 'love issues', the importance of reception, and the astrological indications of dominance, desire or disinterest. Modern examples will be referred to in a highly practical explanation of the philosophies that are embedded in the horary art, and which need to be properly understood to bring clarity to the chart.

All presentations are suitable for all levels of experience.

Sunday Afternoon Workshop (24th)1:30-5:30 pm – Astro-picking: How to get it right
Electional astrology is the technique that allows us to look ahead and select the ideal moment to undertake or begin something important. But it offers more than that, because electional charts have a fascinating ability to expose the strengths and weaknesses in our plans. This workshop explains the technique of electional astrology, looking first at its philosophical basis, and the most important sources, and then demonstrating its usefulness through a number of case histories relating to the themes that are most relevant for the modern client. You will be provided with a full set of notes to take away after the event.
, First Unitarian Universalist Society of San Francisco,
1187 Franklin Street, Geary, San Francisco, CA 94109 Google map

For more information on this momentous event, contact Steve Pincus http://ncgrsanfrancisco.org/
1 Comment
:Deb Houlding, Deborah Houlding Workshop, electionals, horary, NCGR, Skyscript, Traditional Astrology
more...