by Kathy Watts on Oct.03, 2017, under Forecasts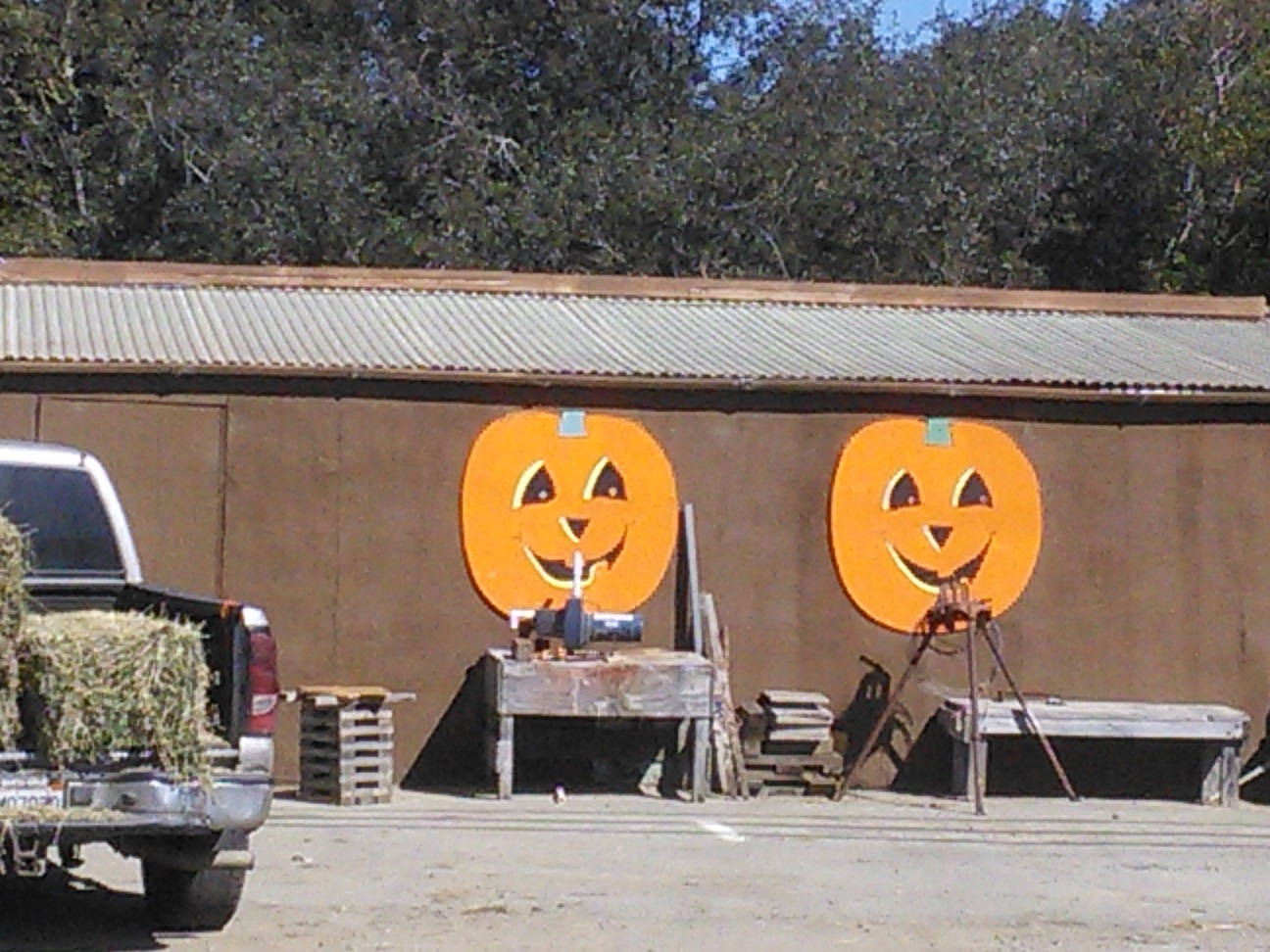 Heads Up!
The Writer's Astrological Almanac
by Kathy Watts
October 2017
All times are PDT.
October at last! Summer is really over now (although not hurricane season). We are in the heart of pumpkin season. Earlier efforts may be bearing fruit, and that's great, but it's almost secondary to the continuing growth of the work in hand. This can be a very productive month. Stick with it!
Sun Oct 01 the Moon is in Aquarius all day. It's the Sun's day of the week. And, we start the month with a Mars-Pluto trine in the earth signs. We can accomplish a lot all month long if we remember to pursue our true passions and be willing to rock the boat if necessary.
Tue Oct 3 the Moon is in Pisces all day and conjoins Neptune at 5:45 am. Wake with dreams that are worth writing about.
Wed Oct 04 the Moon is in Pisces half the day, and in the Aries for the second half. If you dream away the first half, you'll more than make up for it in the second.
Thu Oct 05 is the Full Moon at 12 Ari, at 11:40 am. Yes, it is not September and the fall equinox is long gone, but this is the Harvest Moon. Characters may be working overtime to forge fine relationships with each other but in the end, self-interest will probably win out. Now there's a classic plot complication.
Fri Oct 06 the Moon conjoins Uranus in Aries. Don't shy away from the off the wall comment or the bolt out of the blue action or gesture. This can make socializing or networking challenging but at least it's authentic.
Sun Oct 08 the Moon is in Taurus when the Sun conjoins Mercury in Libra. Heads Up. Aesthetic appreciation will only improve. Go for what is beautiful. Also, today the Sun reaches 15 Lib and enters the Via Combusta, what traditionally are the least friendly thirty degrees of the zodiac. Heads Up and watch your p's and q's. Later, at 6:44 pm the Moon leaves Taurus and enters Gemini. Heads Up for all the clever, communicative, creative mischief that only Mercury can deliver. We have from now until Tuesday evening to be as productive as possible. Jump on it!
Tue Oct 10 the Moon is in Gemini when Jupiter concludes its year-long stay in Libra, changes signs and moves into more serious Scorpio at 6:20 am. Heads Up. Luck and generosity may be less festive, but they will still exist. In the evening, the Moon leaves Gemini and enters Cancer at 8:38 pm. Did you get a lot done?
Wed Oct 11 the Moon is in domestic but dedicated Cancer all day long. Focus on traditional themes and try to not snack all day. It's hard, I know.
Sat Oct 14 the Moon is in Leo when Venus changes signs, leaves Virgo, and goes to her nocturnal home of Libra. Heads Up. The desire for more cultured work can lead to better writing. The desire for a wider market can lead to more practical business thinking. Remember, Venus likes to be popular.
Sun Oct 15 the Moon is in the end of Leo when Mercury makes an opposition to Uranus. Heads Up. That brilliant plot twist may come untwisted under sharper scrutiny.
Tue Oct 17 the Moon is in Virgo when Mercury changes signs, leaves Libra, and enters Scorpio at 12:59 am. Heads Up. Focus on the fundamentals. Also, maybe write more murder mysteries. The Moon then conjoins Mars. Get engrossed in something you've loved for a long time but perhaps set aside. That's quite a busy morning. Later at 6:57 pm the Moon conjoins Venus. Relax, have a hot bath, a nice drink, and rethink how to make something more appealing to more people.
Wed Oct 18 the Moon is in Libra all day. At 1:54 am Mercury conjoins Jupiter in Scorpio. Think big about a deep subject. It's also the day before the New Moon. Heads Up with all the usual precautions and warnings. Be safe in all ways.
Thu Oct 19 the Sun in Libra opposes Uranus in Aries at 10:35 am. If you feel uncertain or displeased with something new, trust your feelings. At 12:04 pm the extremely dark Moon opposes Uranus. Heads Up. Don't get too upset about anything. The New Moon arrives at 12:12 pm at 26 Lib and goes void of course. The coming lunar month can be as full of lovely work as you are prepared to create. The Moon enters Scorpio at 6:41 pm and conjoins Jupiter at 10:41 pm. Heads Up. Feel good about what is going right and don't fret about any of the other stuff.
Fri Oct 20 the Moon conjoins Mercury in Scorpio. Sometimes cleverness is not enough for a character to salvage a situation.
Sat Oct 21 the Moon in Scorpio trines the asteroid Chiron in Pisces. Yes, sometimes a social misstep can lead to a sharp lesson. The real news is that today is the last day that the Sun spends in festive, charming Libra. Tomorrow the world may seem more serious, intense, and less outgoing. Heads Up.
Sun Oct 22 the Moon is in Sagittarius when Mars changes signs, leaves Virgo, and enters Libra. Passion gets more diplomatic and polite. The Sun enters Scorpio at 10:27 pm. Heads Up. We are now in the heart of the Via Combusta, the Fiery Road where there is negative slack and little forgiveness for minor infractions. Choose words, written and spoken, with greater care.
Tue Oct 24 the Moon conjoins Saturn in Sagittarius at 4:55 am. Be less critical of your work, unless you're showing it to others. Don't be critical at all of any first drafts. At 8:55 am Mercury makes a trine to Neptune. Everything is going to look great now so maybe just write flat out and save judgments for later.
Wed Oct 25 the Moon is in Capricorn all day. Do you have your list of work assignments?
Thu Oct 26 the Moon conjoins Pluto in Capricorn at 3:49 am. If you wake feeling anxious, this too shall pass. At 11:09 am the Sun conjoins Jupiter in Scorpio. Heads Up. Feel lucky about what is most important to you. It may be subtle but there is nothing superficial about it.
Mon Oct 30 the Moon is in Pisces all day. The Moon trines Jupiter in water signs at 12:54 am. Have an emotionally powerful dream, whether you remember it or not. At 2:32 pm the Moon conjoins Neptune. If you're writing romance, today is your day.
Halloween, October 31, is the third harvest of the year. The first was August 1, Lammas. The second was the Harvest Moon, the full moon with the Sun in Libra (often in September but not this year). Halloween is the third and last. Tradition has it that what has not been harvested by Halloween now belongs to the faeries. If you haven't harvested it by October 31, then don't touch it. It's not yours anymore. No one wants to anger the faeries. Now that's deep.
October is deep. Scorpio is deep. That's fine. Writers are deep. It's where we live and what we do. Sometimes what sounds the most light-hearted, the most humorous, even what is aimed at the most juvenile of readers, those works may be the deepest of all. Truth is like that, and that's what we're after, ultimately.
Keep turning over, digging deeper, and going farther into the fall. And be respectful of the faeries. Heads Up!
*****
:Halloween, October Forecast, Scorpio, Spooky, Venus conjunct Mars
No comments for this entry yet...